Your gaming PC, gaming desk, and amazing gaming chair are all that are left to complete your battle station. It's important to maintain your comfort level while playing; if you're continuously moving around in search of the right position, it will be difficult to concentrate, which might lose you the game. The finest seat in the home is provided by a specialized gaming chair, which is also quite simple to shift from room to room. No matter if you're playing on the PS5 or Xbox Series X in front of the huge screen in the living room or at your workstation, you'll always feel comfortable.
Given the huge number of gaming seats available, we have focused our search to find you the finest solutions for all kinds of setups. From rockers and recliners to classic racing-style seats and even a few more unusual, ergonomic types, we've got it all.
Secretlab Titan Evo 2022
Leatherette or fabric are great options for a plush, well-cushioned, and capacious seat. Along with a robust backrest with a covertly added adjustable lumbar support, this ensures proper posture and prevents back strain. Additionally, a deep recline that locks into position is included for improved rest between intense gaming sessions.
Instead of using straps to secure the neck cushion, Secretlab chose to use magnets. This results in a fashionable look and better positioning control. You can easily remove the 4D armrest tops if you wish to replace them with one of the other toppers Secretlab offers because they are also held in place magnetically. It is difficult to find a better alternative in terms of comfort and quality when those extras are added on top of everything else.
Razer Enki
Those racer-style seats come to mind as soon as you think of a gaming chair. Few devices can compare to the Razer Enki's all-day comfort, adaptability, and flair, making it our favorite of the group. No matter your size, it should fit you as the chair is made to accommodate people up to 299 pounds and 5′ 5″ to 6′ 8″. Additionally, you can position it any way you wish because of its 4D armrests, tilt, and backrest adjustments to make sure you're at the ideal angle for destroying your opponents and staying up with rigorous marathon gaming action.
The soft cushioned seat and stiffer back with lumbar support on the Razer Enki, once customized to your preferences, will be pleasant for hours of use. Additionally, the side bolsters on the seat are lower than on earlier iterations, allowing you to sit whatever you choose or cross your legs. Last but not least, it is covered with a chic, dual-textured synthetic leather and fabric combination that keeps you surprisingly cool. The only feature this design is missing is a lumbar support that is adjustable. Other than that, it's a sturdy racing-style chair without any of the usual pain.
Corsair TC60
Although PU leather may have a nice aesthetic and is simple to maintain, it doesn't necessarily feel well on your skin. You'll feel much more at ease in a cloth gaming chair that prevents that awful sweaty stick whether you're gaming in shorts, tank tops, or the occasional birthday suit. You should choose the Corsair TC60 fabric chair since it is comfortable and breathable, preventing you from overheating even during extended gaming sessions.
The seat is wide and comfortable, and it can accommodate a good variety of heights. Furthermore, larger players don't need to be concerned because the chair and piston support 264.5 pounds. The chair has a deep recline and synchronized tilt that prevents your butt from slipping out of the seat when you lean all the way back, making it ideal for relaxation. Additionally, this chair offers a lot of value for the money when you consider the built-in lumbar support, 3D adjustable armrests, and other features.
Respawn 205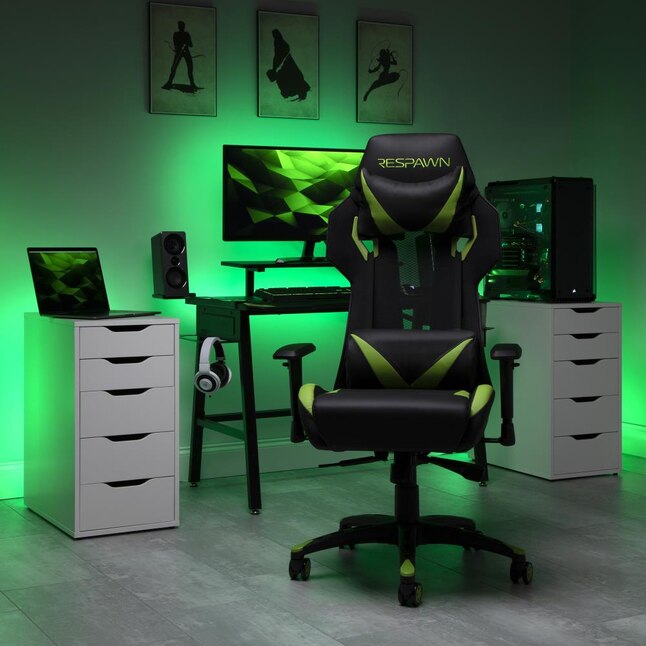 It's crucial to avoid becoming too hot when gaming so you can maintain your attention on the activity. This is where a budget-friendly mesh gaming chair like the Respawn 205 is useful. Although this chair is made of mesh, it is nonetheless durable and can handle up to 275 pounds thanks to its steel structure. Additionally, you get a broad, height-adjustable PU leather seat, which makes this a good alternative for both tall and short players.
Beyond simple height changes, the Respawn 205 gaming chair has additional features. One feature that lets you better position your arms for ergonomic keyboard and mouse operation is the ability to raise and lower the armrests. For a little rest and relaxation in between gaming sessions, it also reclines back to 130 degrees and can lock in three settings. With lumbar and neck pillows, you may put the cushions exactly where you need them, taking ergonomics a step further. Overall, this extremely economical bundle offers excellent heat management and comfort.
AndaSeat Kaiser 3XL
It's a great chair if you want a little bit more space than your typical gaming seat, and the Kaiser 3 XL is perfect for that. Large and extra large are the two available sizes for the Kaiser 3. A player's height ranges from 4'11" to 6'2″ (150-190 cm) in the big and 5'11" to 6'9″ in the extra large (181-210cm).
The Kaiser 3 is quite interesting in providing possibilities. Premium PVC leather and linen fabric are the two materials that are offered for this chair. Orange, pink, and blue are three of the seven hues available for the premium leather. Ash gray and carbon black are the two hues available for the linen fabric.
Your comfort is further increased with the chair's magnetic neck cushion and 4D armrests. The neck pillow includes cooling technology and is constructed of memory foam to preserve comfort. It can also be locked into a variety of configurations, allowing you to rapidly discover your ideal posture without ever becoming weary or sore.
noblechairs Icon
Although leather is sometimes more expensive, it is quite durable and gives your setup a touch of refinement. The noblechairs Icon, according to our research, does leather the best, and the rest of the design is also quite good. Instead of choosing the more common PU leather, this chic gaming chair provides a variant with real leather. A good amount of chilled foam is stuffed within the leather-wrapped seat to provide a nice, comfortable area to rest your behind during lengthy gaming sessions. It blends in equally well in a professional atmosphere as it does in a gaming one thanks to the amazing design, which also doesn't scream "game chair."
It is also quite adjustable in addition to having a luxury leather look like the noblechairs Icon. You have plenty of room to find a comfortable position at your work thanks to the seat's roughly 4-inch height adjustment. It is now even simpler to find the optimal ergonomic setting thanks to the 4D armrests. Additionally, the chair can recline back to 135 degrees when you want to relax, and the base offers some rocking motion as well. The Icon comes with a lumbar cushion and neck pillow, albeit the design does not mandate them, for those who desire a little more support.
Logitech G x Herman Miller Embody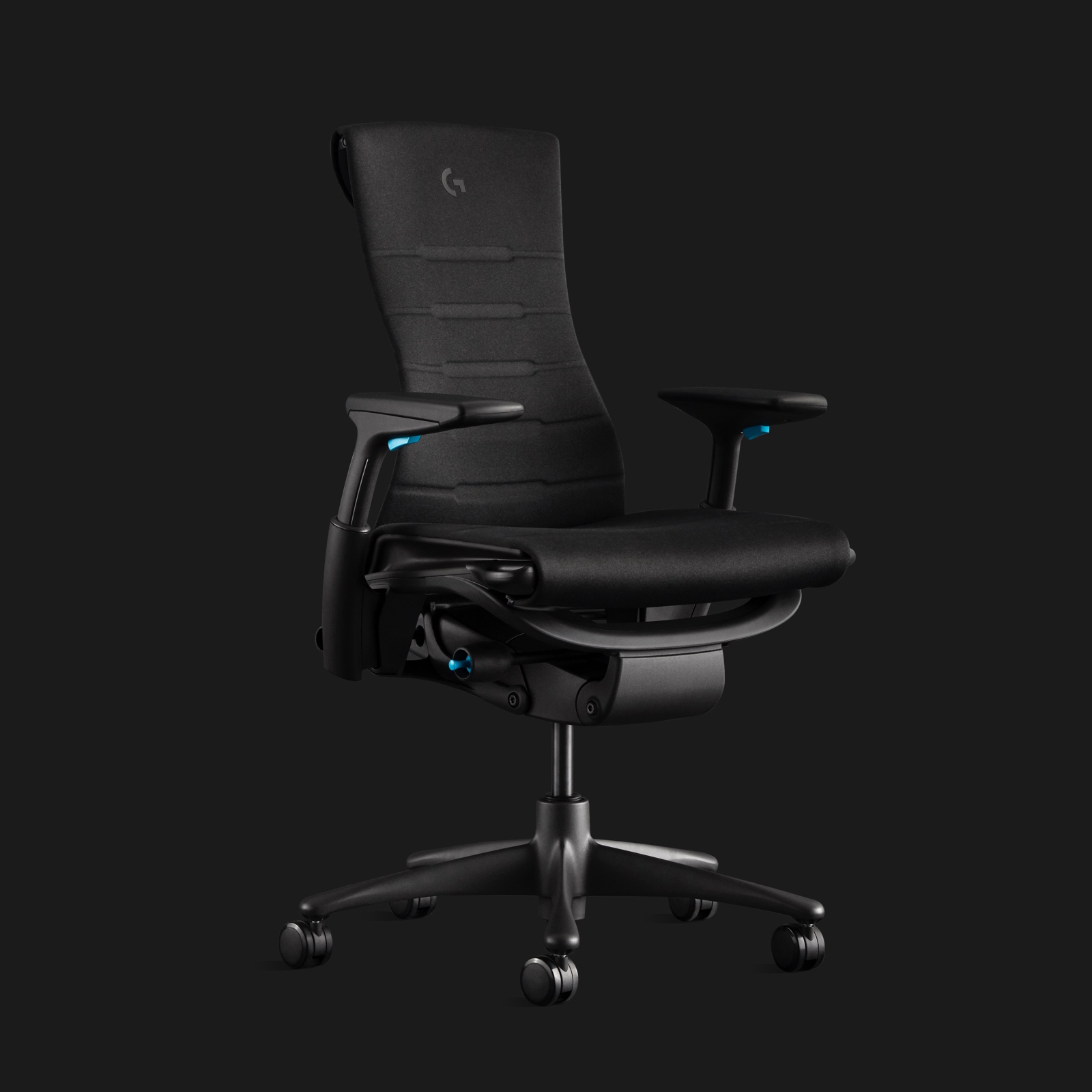 The gaming Embody, a tried-and-true and well-known design, is now available in a new black and blue coloring. Plain black is also an option if you like a more sober/edgelord appearance. Along with the Logitech G logo running over the upper band of the backrest, there is a little Logitech G brand toggle. One of the greatest seats for gaming or business use is the tried-and-true Embody design. It encourages an active and healthy posture, is exceptionally comfortable for extended usage, and is simple to adjust to your frame.
The feature of this chair that stands out the most is that you may sit in it all day without experiencing any discomfort in your lower back. Your upper half may move about the office all day into postures that are definitely not ergonomic, but your lower body tends to remain stationary at a desk, so it's crucial to get that exactly right.
DXRacer Air Series
Mesh is the way to go if you're seeking for the greatest method to stay cool while gaming. Since comfort is crucial while spending hours working at a desk, these chairs are popular in businesses since they are made of the most breathable fabric available. You may still enjoy the same level of comfort while gaming, though. It appears like DXRacer had the similar idea because it determined the Air Series would have a mesh back and seat. But don't worry, the gaming chair flair was also included.
The DXRacer Air Series uses netting that is extremely durable and resists normal wear and tear. It uses suspension springs to simulate the comfortable sensation of sitting in a foam chair. Additionally, the Air Series' integrated, adjustable lumbar support and memory foam headrest guarantee that you are sitting with good posture. Additionally, you are sure to discover the position that is most comfortable for you thanks to the adjustable 4D armrests and tilt.
Thermaltake Argent E700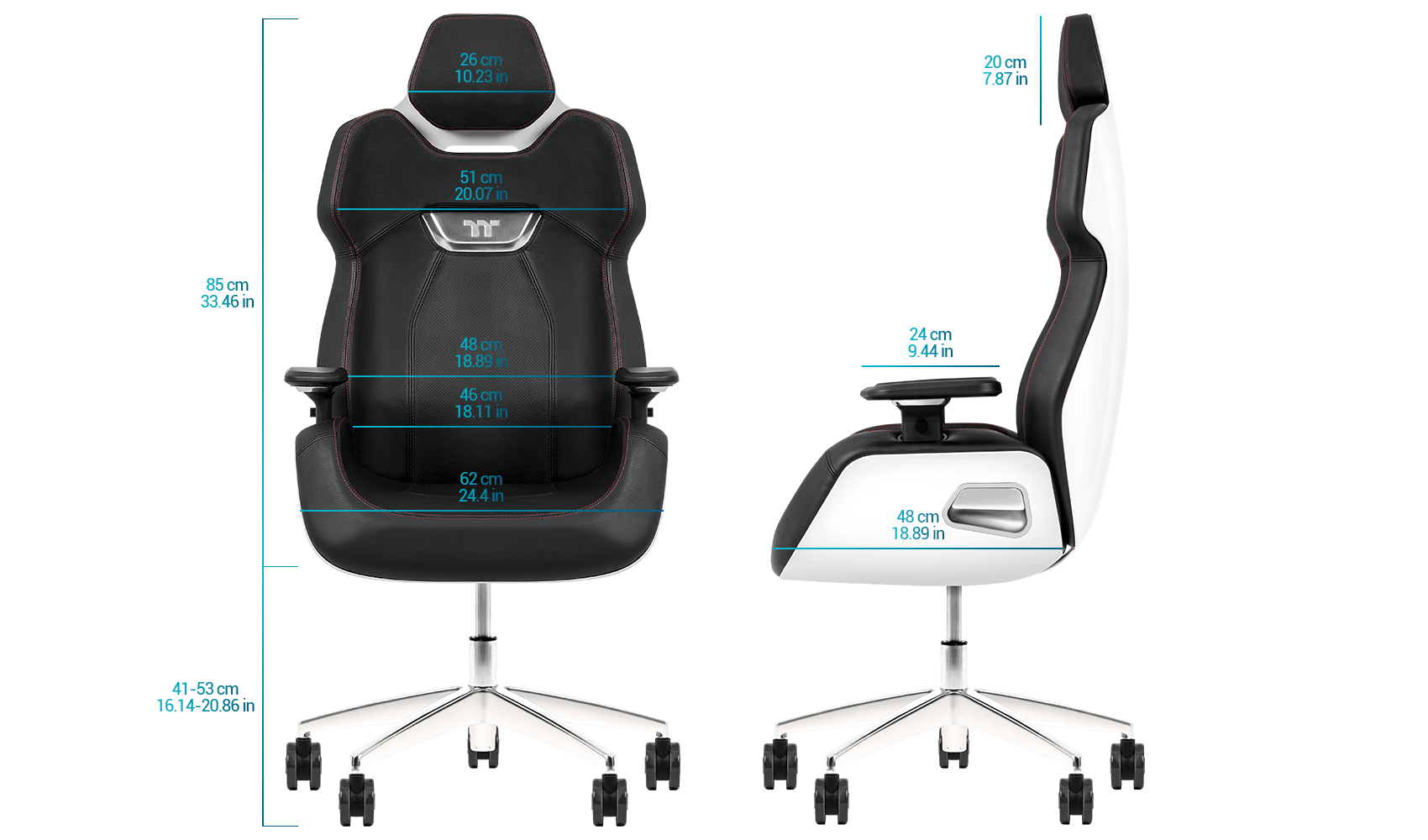 The Argent E700, created by Studio F. A. Porsche, has a sleek, curved ABS shell that comes in nine colors, including a dazzling "ocean blue," and genuine leather seating with contrast stitching. In addition to being stunning, the Argent E700's glossy exterior is incredibly reflective, which is sure to draw attention away from any excess clutter on your desk.
The Argent E700 has a lot less adjustments than many of its rivals. Only four positions—107, 113, 119, and 126 degrees—are locked while it reclines. It features 4D armrests that don't lock into place and a headrest that glides vertically. As a result, it frequently moves and clacks. It lacks an integrated lumbar support system. The chair also features rather hard cushioning and a rigidly sized seat that isn't very thin.